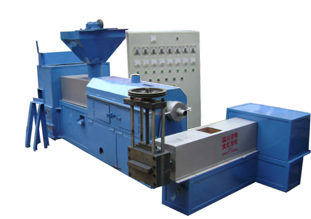 By the end of the "Twelfth Five-Year Plan", the country's environmental protection investment demand will reach 3.4 trillion yuan, and the industry's output value will reach 2.2 trillion yuan, both doubling the "Eleventh Five-Year Plan" period, and the compound annual growth rate of the industry will be 15%-20%. between. Zhao Hualin, Director of the Department of Pollution Prevention and Control of the Ministry of Environmental Protection, said at the meeting that it is expected that the environmental restoration industry such as soil remediation and groundwater remediation will become the direction for the further development of the environmental protection industry in the "Thirteenth Five-Year Plan".
The operation of recycled plastic granulators involves a wide range of national economy. It is not only an indispensable basic production link for a large number of industrial and agricultural products. Recycled plastic granulator is also a large energy consumer in China, and uses energy.
It accounts for about 12% of the total energy consumption of the national economy. In addition, the pollution caused by the plastic granulator process is often an important source of environmental pollution in China. The progress of plastic granulator technology has a very close relationship with the development of the entire national economy.
In recent years, the disposal and recycling of waste plastics have been increasingly valued by countries around the world, and China is no exception. Policy support is an advantageous guarantee for the development of recycled plastic granulators. In addition, the advantages of recycled plastic granulators also make it possible Continue to develop.
At present, China's waste plastic recycling rate is not high, waste plastic recycling plant is not much, especially in uneven distribution, most of the places are almost blank; the other hand, China's industrial development in recent years is rapid, the market is booming, large-scale plastic market has dozens The use of scrap plastic pellets has been in short supply, and prices have risen again. As a result, the disposal of used plastic pellets will become a hot spot for future development. As a main processing machine, recycled plastic pelletizers will have a large customer base.