Recently, Wärtsilä announced that it will provide adjustable pitch propeller and shaft generator systems for two new ro-ro ships built by CLdN Ro-Ro SA. The two ships were built by the Croatian Uljanik shipyard and there are also two ships to choose from.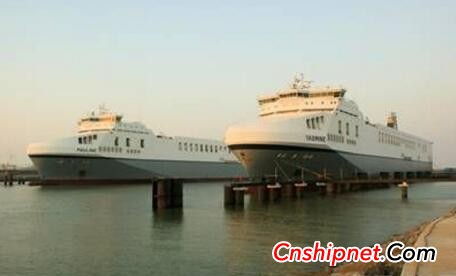 The Wärtsilä agreement was signed in December 2016 and February 2017. Under the agreement, Wärtsilä will provide the latest design, WCP G-hub hubs for these two ro-ro ships to optimize high power density.
Wärtsilä's scope of supply also includes propeller axis systems including propulsion control, and tailstock bushings with seals and bearings, intermediate shaft bearings and fittings. These propellers will be designed using the OPTIDESIGN method. The computational fluid dynamics technique of Wärtsilä will be used to optimize the interaction between the propeller and the hull in order to achieve the highest possible performance.
Wärtsilä's shaft generator system not only generates power to the mains supply, but also acts as a motor when the main engine is not operational for any reason, thus helping the ship return to the port.
It is reported that the two ro-ro ships are 211 meters long and equipped with 5,500 meters of lanes. After delivery, the two ro-ro ships will operate on the North Sea route. The equipment provided by Wärtsilä is scheduled to begin delivery to the shipyard in December 2017.
Stainless Steel Sheet Metal CNC Laser Cutting Parts
(1) It is used as a variety of industrial metal parts that like electronic component, auto spare parts,
home appliance, industrial equipment...etc.Material based on SPCC and SGCC, stainless steel, aluminum alloy5052, 6063, 6061, Stainless steel 304, 316, 201, carbon steel,etc.
(2) Software for specification drawings: Pro/E, Auto CAD, PDF, IGES/IGS, STP/STEPS, X_T, DXF etc..
(3) High precision as following: Carbon steel: 0.5mm~16mm,Stainless steel: 1mm~8mm,Aluminum alloy: 1mm~8mm,Brass: 1mm~4mm.
Accuracy: positioning accuracy: ±0.03mm, Repeated positioning accuracy: ±0.02mm
(4) Main poduction machine: Laser Cutting Machine, CNC punching machine, welder, CNC bending machine
(5) Surface treatment: Polishing, grinding, gavanized, powder coating, nickel, zinc, chrome, silver, gold plating etc.
(6) For packing: A variety of packing methods can be used according to customers' requirement, such as carton , wood box, wood crate and pallet etc.
Stainless Steel Laser Cutting,Custom Laser Cutting,Cnc Laser Cutting Machine,Laser Cutting Machine
Nanpi Jian Tong Hardware Manufacturing Co., Ltd. , https://www.sheetmetals.nl