[ China Agricultural Machinery Industry News ] If you must use a word to describe the movie "War Wolf 2", it is "burning." You have to go to the cinema in person, you must know that there is no absence, long-awaited applause and amazement. Up to now, the box office of the film has exceeded 3 billion, refreshing the record of Chinese film and theater at the box office. What is more attractive is Wu Jing's desperate efforts for "War Wolf 2" and his unremitting struggle.

At the beginning of "War Wolf 2", the scene of fighting pirates in the sea, Wu Jing is said to have almost lost his life in the sea. On this shot, Wu Jing took 26 shots and spent dozens of hours in the water. In the process of shooting, he had to fight for 1-2 minutes because of the intense action. He could barely climb out after each shot. The water surface was repeated 26 times, and the physical strength was saved by the lifeguard.

For the authenticity of the film, Wu Jing led the filming team of "War Wolf 2" to go to Africa for framing. During the period, he encountered robbery, tornado attack on the shooting ground, photography director was bitten by poisonous spiders, and the director of the film was poisoned by food. Wu Jing himself It was always a knee injury that persisted in shooting and even was blown to temporary deafness. And this is only for making a good movie to the audience. Make a film with this desperate spirit, do you say he will not succeed?

The tough blood of "Wolf Wolf 2" makes us feel the power and masculinity. Let us see a passion and hard work. Let us see what Wu Jing has paid behind the success. His dedication and persistence are the needs of success. The traits.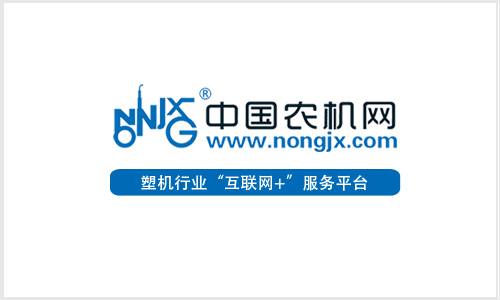 From the shooting process of "War Wolf 2", the defense industry's persistence before dawn
From the shooting process of "War Wolf 2", the difficulties and persistence of the flying defense industry are reflected. In recent years, drone-based drugs have shown rapid development as a convenient way of plant protection, but at the same time it has brought many problems. For example, many people who do not understand agriculture venture into the industry. Most of them are transformed from aircraft models and consumer-class drones, and they want to make a "pig on the wind." However, the plant protection drone is actually just a farm implement. It is not a fly, it can fly, and it needs a lot of agricultural knowledge.

Due to the chaos of the threshold, the boundaries of this industry have long been blurred, traditional industry barriers have been easily penetrated, technology, agriculture, drones, the Internet, you can no longer simply label a company. The new plant protection model is also emerging, and the self-operated mode, the platform mode, and the alliance mode each play different roles, and they are also finding ways to find a way out. In addition, the lack of industry norms, many technical bottlenecks have not broken, and the research and development capabilities of professional components are not enough, and the results in actual operations are not satisfactory.

After many rounds of trial and error in this industry, many companies have paid a big or small price for them. They have begun to fall into difficulties and confusion. In this case, what kind of posture should we continue to move forward?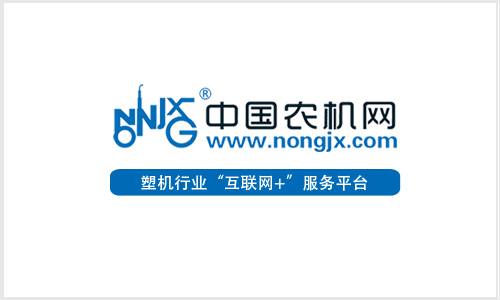 An emerging field will inevitably experience the stage of chaos in this industry. But we believe that all this is only temporary. In the market economy environment, every emerging industry will experience the burgeoning - explosive development - market chaos - the stage of normal and steady growth, the development of the flight defense industry must also go through this process. Just as Taobao has just begun to develop, this new way of shopping is questionable and unacceptable. Today, online shopping is already part of life.

The same is true for the flying defense industry. After the turmoil of the industry, I believe that a bright future is waiting.

During this period, we need to pay and stick to it. Just as Wu Jing did the same during the director's "War Wolf 2", he overcame many hardships and only achieved his dreams. He finally won a huge victory. And our dream of S&P's defense against people also needs to overcome a lot of difficulties to complete, and keep it in the insistence.

I really like what a person in the industry said: To be a business is to be faithful. This is cool and a tired place. What do you do, which way to go, others are not easy to understand or interested. Who cares about your faint headlights and the long walk through the Gobi. The spectator is only responsible for applause and sarcasm, and we only set up companions and set off on the road. When lonely and lonely, look up at the starlight in the night sky. Finally, keep the dawn and the sunrise.

After that, I used a line in the movie to share with everyone: "A wolf, a wolf for life", together with the wolf to success.

Metallurgy Industry Crane is a hot-selling crane series of Weihua crane. Metallurgy industry crane is for matellurgic plant to handle ladle, furnace, mold, slab, socking pit, ingot, box, or other special product. The sling can be with hook, grab, magnet beam, clamp, fork, etc.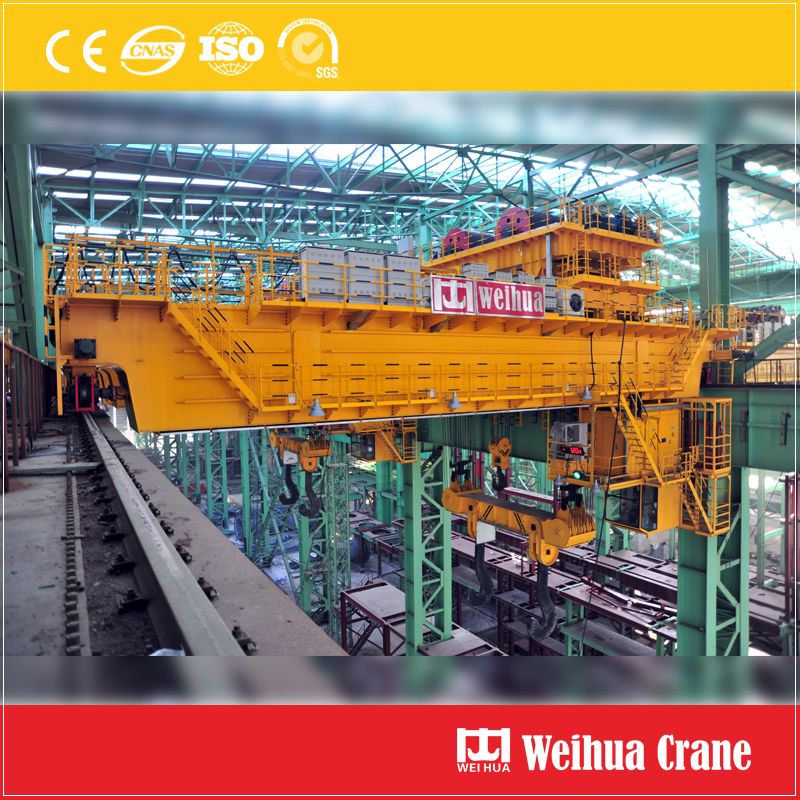 Weihua provides all kinds of metallurgy industry crane includes Ladle Crane, scrap charging crane, socking pit crane, forging crane, Electrolytic Aluminum Crane, slab handling crane, steel pipe handling crane, steel plate handling crane, insulation Overhead Crane, etc.
Capacity:10t -800t
Span: 6m - 32m or custom
Lift height: 6m - 32m or custom
Work duty: A5, A6, A7 or custom
Sling device: hook, grab, bucket, magnet, fork, clamp, etc.
Packing: wooden case, rain cloth, reinforcement rib, etc.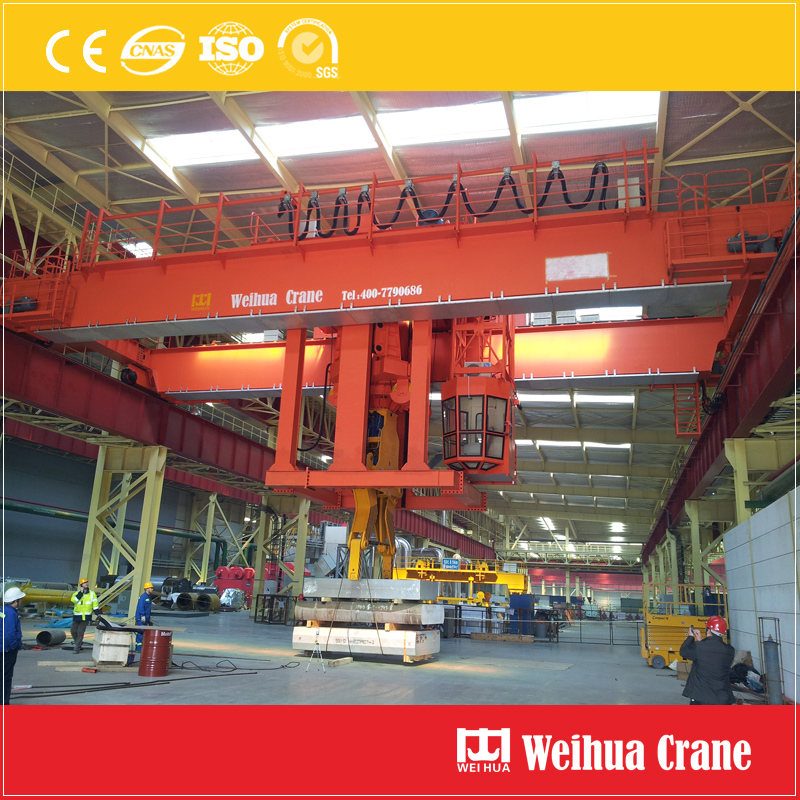 Features of Weihua Metallurgy Industry Crane:
1. Fast speed of hoisting mechanism for efficient production. Speed regulating is carried out by stator pressure regulation and motor frequency conversion.
2. Anti-sway system for steady and smooth operation.
3. Accurate positioning, fully automatic, CNC control.
4. European FEM standard and Germany DIN standard are available.
5. Safe and reliable, reasonable structure, economical, long service life and convenient to maintain, etc.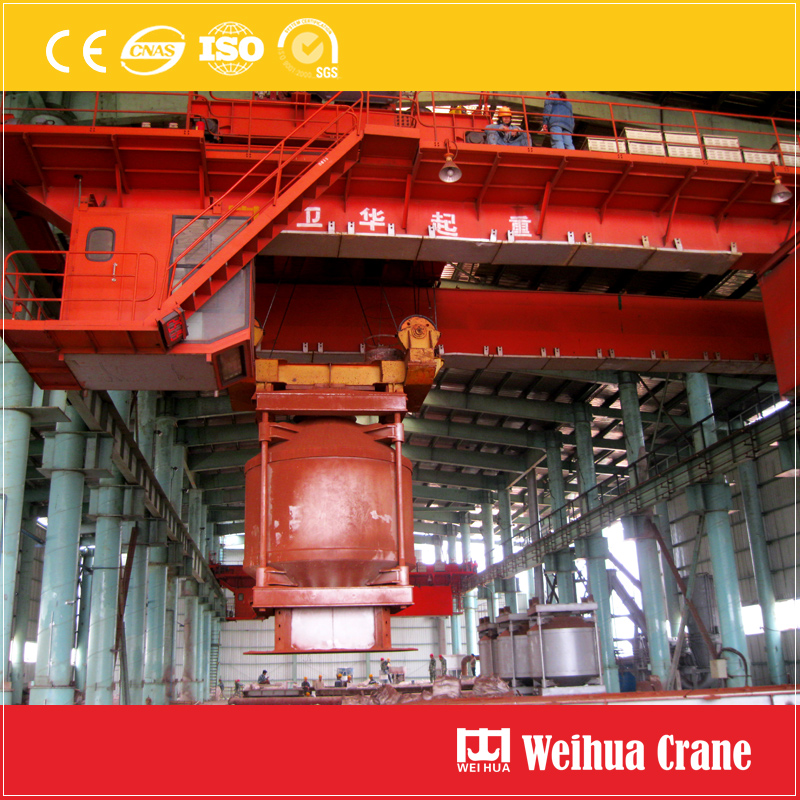 Weihua crane has exported to 110 countries and got a lot of praise from customers. We have confidence to provide the right products and professional solutions to you. Just tell us your requiremnet and working site conditions.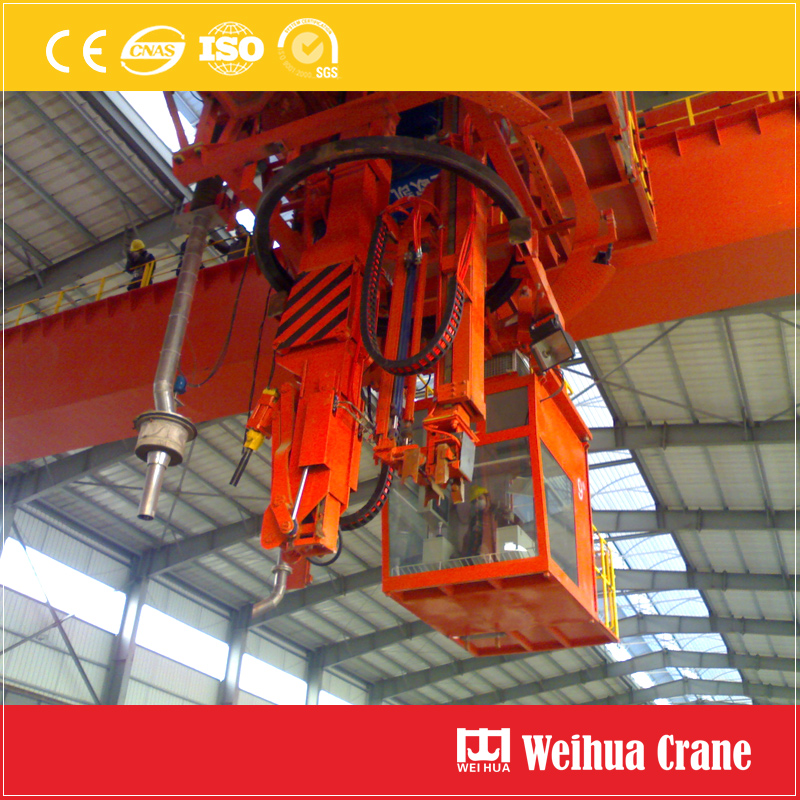 Metallurgy Industry Crane
Ladle Crane,Metallurgy Industry Crane,Socking Pit Overhead Crane,Overhead Crane With Clamp
Henan Weihua Heavy Machinery Co., Ltd. , https://www.weihuacranefactory.com