On October 30th, the United States Federal-Mogul Auto Parts and Togo maintained a deep strategic cooperation and authorized Togo to become one of its most important e-commerce strategic partners.
As the world's leading supplier of auto parts and components, the products of Federal-Mogul Auto Parts have been well received by Chinese consumers for many years. The brands that the company sells in the automotive after-sales market in the Asia-Pacific region mainly include AE, Champion, Fiordo, FP- DIESEL, GLYCO, Goetz, Jura, Maigu, Wagner and Peiying.
This cooperation, the company will share the service resources of the company and the Huimen auto parts, and integrate the offline service resources to serve the online users of Federal-Mogul's auto parts, helping the Huimen auto parts to provide one-stop service for Chinese consumers. product and service. At the same time, it was revealed that the United States Federal-Mogul's auto parts will be supplied to Ferro's brake products series, as well as the champion's spark plugs, filters, wipers and antifreeze.
Chen Min, founder and CEO of the company, said: "Feimen Auto Parts is the world's leading auto parts manufacturer and service provider, and it is more effective to establish long-term and friendly strategic partnership with Federal-Mogul Auto Parts. Improve product quality and upgrade logistics services, so as to achieve an overall improvement in the ability and level of the service of the company, which will provide strong support for the diversified and quality maintenance needs of Chinese car owners, and ultimately expand the brand of both parties in the end consumers. Influence."
According to public information, the company has been founded in Shanghai in 2011 and currently has more than 13,000 cooperative installation stores covering 31 provinces, municipalities and 405 cities. The industry believes that with the acceleration of the consumption escalation process in the Chinese market, the demand for quality products and diversified services by Chinese consumers continues to increase, and it is becoming more prominent in the field of car maintenance. This is the cooperation between Federal-Mogul and the company. Foundation and background.
The tube assembly needs to be installed with end plugs to prevent dust and other objects from entering the quick connector and causing the connector to be blocked.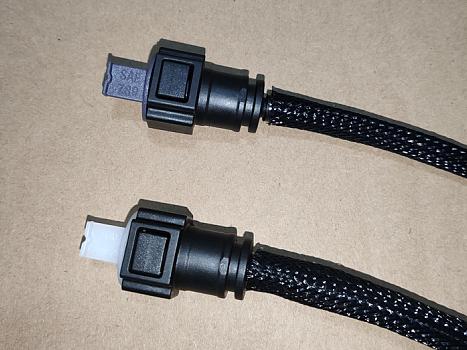 Quick Connect Protection Caps , Quick Connect End Plug ,Quick Connect Dust Cover,Quick Connect Dust Caps
Linhai Shinyfly Auto Parts Co.,Ltd. , https://www.chinashinyfly.com