According to industry statistics, cumulative sales of the industrial power market in 2014 increased slightly by 1.8% year-on-year, and pressures for survival and development are gradually emerging. The industry predicts that the "micro-increase" will continue in 2015, the global economic recovery is uncertain, the political situation is turbulent, and domestic communications, high-speed rail, real estate, military products and other markets are under-employed, which has adversely affected the export and domestic sales of industrial power products. influences. In response to market challenges, Weichai took advantage of the R&D strength of the "Five Nations and Ten Territories" and accumulated decades of technology to constantly improve the product lineage and formulate individual product and service plans to meet the needs of different market segments.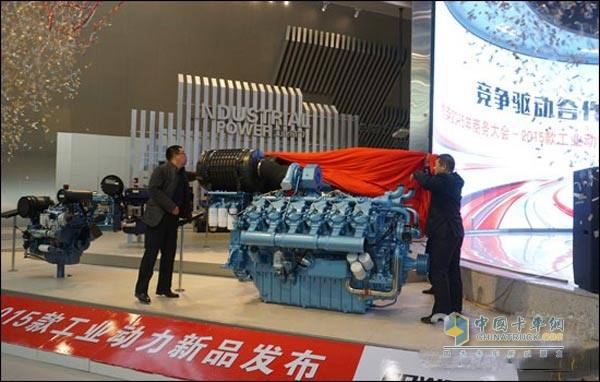 Weichai Engine Released
On January 18, 2015, Feng Gang, Vice President of Weichai Power at the Industrial Power Business Branch pointed out that Weichai is determined and confident in the power market of the deep-growing industry. In recent years, investment in R&D for industrial power has continued to increase. At present, the technology content of competitors' leading products is relatively low, and Weichai will rely on deep technical precipitation to drive the industry to reshuffle and take the opportunity to occupy a place.
In order to transform Weichai's technological superiority into an agent's marketing advantage and allow more end-users to share the benefits of technological innovation, Weichai formally launched the new Baudouin M33 series land-based diesel engine in 2015. This series of products inherits the high reliability and high-configuration features of Baudouin's products. It has the advantages of high fuel economy, easy start, high reliability, and power coverage of 5,081-12,65 kW. Its pre-filter air filter, three-stage nanny filter and centrifugal rotor filter configuration, making the fuel consumption rate can be as low as 195g/kWh; electric fuel pump, high compression ratio design and intake heating device, so that the engine starts at a low temperature more smoothly High-strength alloy steel crankshaft, cast oil pan and injection molding air filter can effectively improve the overall reliability, good shock absorption and noise reduction; single cylinder head, hand pump oil pump and body observation window and other designs are Later maintenance provides convenience.
In addition to pushing new products, Weichai also optimized existing products. In terms of product performance, a series of optional configurations have been designed to enrich product functionality and meet the requirements of different users at multiple levels. For example, the development of high and low temperature water tanks meets the requirements of engine cooling capacity for different ambient temperatures; horizontal mufflers and expansion joints can be applied to occasions with different noise requirements.
With regard to product quality improvement, through high-level promotion and full-staff participation, the management of product quality has been strengthened in design, development, manufacturing, procurement, and sales. The overall failure rate of industrial power products has been gradually reduced. Taking the starter as an example, by optimizing the drainage structure of the starter and reducing the accumulated water, the ablation can be effectively prevented; the oil bearing is changed into a needle roller bearing so that the sliding friction is changed to rolling friction and the service life is prolonged.
At the same time, in terms of emission compliance, Weichai has mature engine products that meet non-road three-phase and have the potential for four-phase non-road. Through the technical route of the mechanical pump + EGR system, the NOx content in the exhaust gas is reduced; the electronically controlled high pressure common rail system is used to increase the fuel injection pressure, optimize the combustion in the cylinder, improve the fuel economy, and reduce exhaust emissions.
Utilizing the advantages of the Group's entire vehicle and developing differentiated products for different market segments and different working conditions, Weichai's technological superiority is constantly being transformed into an inexhaustible motive force for agents to explore the market. Relying on strong research and development strength and technology, Weichai is quietly changing the contrast of industry power.