On January 26, 2015, Chairman Tan Xuguang met with AVL's chairman and CEO Liszt and his team in the VIP room of the Weichai High-tech Industrial Park. The two sides discussed the current industry situation and exchanged ideas on the next step in deepening cooperation.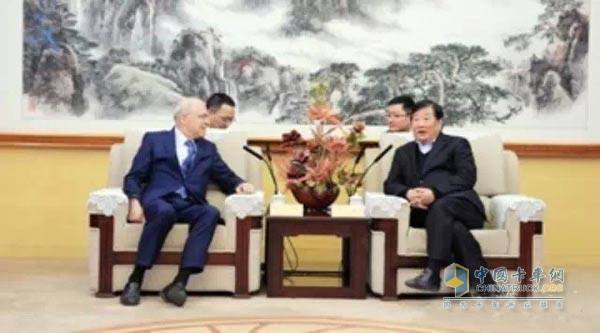 Chairman Tan Xuguang met with AVL Chairman and CEO Liszt
Tan Xuguang welcomed guests from afar. In a cordial and friendly atmosphere, the two sides reviewed the happy cooperation history of the past. Tan Xuguang said that Mr. Liszt is an old friend of Weichai. Weichai and AVL have many years of successful cooperation experience. At present, China's economy has entered a new normal state of development. In the new stage of development, the internal combustion engine industry has gradually returned to a reasonable growth trend, and the development of blowout has become a thing of the past. In recent years, the overall operation of Weichai has been stable and healthy. However, due to the impact of the large environment, the company still faces many challenges in the future. We look forward to working with AVL to develop more in-depth cooperation. With the advantages of both parties, we can work together to create products that are more competitive and fully meet the needs. Customer demand, improve the overall level of the industry, leading the industry's new trends.
Liszt said that he is very honored to be able to come to the wood again. In December 2013, AVL and Weichai Power signed a strategic cooperation agreement. This is the result of years of cooperation between the two parties, and it also indicates that there is a broader prospect for future cooperation. At present, the industry's new technology and new products are rapidly updated and the competition is becoming more intense. AVL has maintained a good momentum of development and can provide more support for customers. It is hoped that more cooperation with Weichai will be carried out in the fields of hybrid power and hydraulics in the future.
Weichai Power has a long history of cooperation with AVL. In 1984, the two sides successfully launched the Weichai 6200 engine technical consulting project, officially opening the road of cooperation. In 2003, the two sides re-closed their cooperation and successfully launched the "Lan-Qing" series of products for two years. This enabled Weichai Power to become the first high-speed, high-power, Euro III diesel engine company with completely independent intellectual property rights in China, further laying the foundation for Weichai power in the internal combustion engine. Industry leading position.