To drive your own car to run a business, this should be a dream that many card lovers have ever had. Not so much pressure, will not be oppressed by the boss, one person a car to achieve a preliminary business dream.
You can count yourself as the boss. However, the road to a dream is a bumpy road.
Abandon the "predecessor", another new love
Henan Xinjin "Kangfen" has done a major event. On the 7th of the seventh year of the Lunar New Year, the "predecessor" who had sold less than 2 years had bought a Dongfeng Tianlong flagship .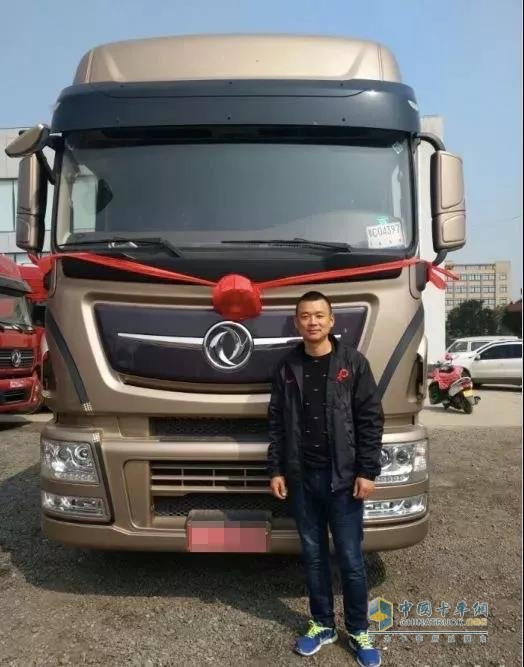 Henan's new "Kangfen" and Dongfeng Tianlong flagship carrying Cummins Engine
Talking about the "predecessor", he still has a stomach complaint. "The car mentioned in March 2016, although it claims to have no major repairs for a million kilometers, but it took more than a year to get a variety of problems. From the beginning of the fault, I was constantly defending the rights. Later I also sold my teeth. !! There were so many problems in more than a year, and they did not have any hope for the future. Human rights abuses also affect business."
"Although it was hurt by the 'former', after selling the car, I felt that I should buy one. After all, this is my ability to support the family. So, comparing several brands, I also found some of my peers to understand. Come down and buy the sailing version 520. When you finally make a decision, consider yourself to be indefinable, and you should make yourself better and meet your own desires. Finally, when the teeth bite, you buy the Dongfeng flagship, who makes you like to play. The car's old cannon? This life is followed by a car, the car is beautiful, but also enough power, matching this 13-liter Hong aircraft, the maximum output can reach 520 horsepower, very strong, overtaking is also fast, I am very satisfied." He said.
In addition, Tianlong's flagship has more amazing face value. Tianlong flagship cab appearance patent won the 19th China Patent Design Excellence Award! Collision meets European ECE safety regulations.
From the side, there is a range of European trucks. The combination of black flowers makes the car more mysterious.
The "new love" is better than a little
No effort to climb the slope, overtaking more at ease. Any car is afraid of lack of power, especially in heavy trucks. Tianlong's flagship 520 matches the Dongfeng Cummins ISZ13L engine with a power output of 520ps and a torque of up to 2460Nm. Fast start, quick acceleration, strong hill climbing, and instant power, meet the needs of various road conditions.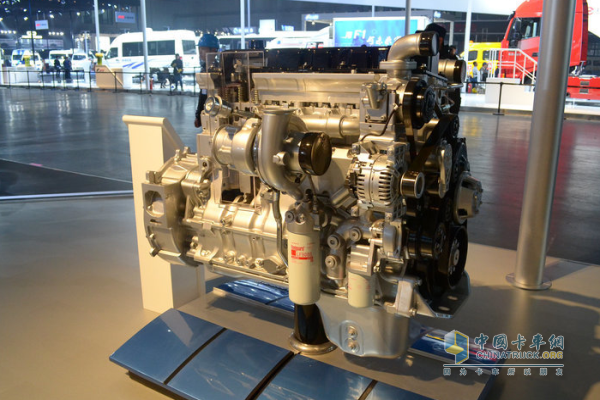 Dongfeng Cummins ISZ13L Engine
Saving fuel is a technical activity that means earning more money. In your own car, fuel-saving performance is a matter that must be considered. After all, many provinces are earning more. The maximum injection pressure of the ISZ engine can reach 2400 Bar. The E/P fuel-saving switch is standard, and its minimum specific fuel consumption is 186 g/(kw/h), which ensures low fuel consumption operation from hardware performance.
More than 2,000 service stations and 24 hours service are the guarantees. Let him choose to become "Kangfen". In fact, Dongfeng Cummins has more than 2,000 service sites across the country and 24 hours service response. These thoughtful services completely eliminate his concerns. The trucks were running all over the country, where the inconsistency occurred, and the services of Dongfeng Cummins let him take care.
Readings:
TENT AIR CONDITIONER (MOBILE COOLING & HEATING AIR CONDITIONER)
Mobile Tent Air Conditioner is a mobile air conditioning unit developed primarily to provide air conditioning in tents, campings, temporary or transportable buildings, or similar fields. To improve the working or living conditions, tent air conditioners, including military use tent air conditioner, mobile Field Hospital air conditioner, relief air conditioner, etc
The unit is designed for outside installation with ducted supply and return air. The function is based on a cooling circuit and two powerful fans. The evaporator section contains the evaporator and a radial fan which draws warm internal air through the cold evaporator and blows out the cooled air through the side of the unit. The condenser section contains two condenser coils and a large axial fan returning the heat from the internal air to the outside. Heating function is also available by an opposite circuit.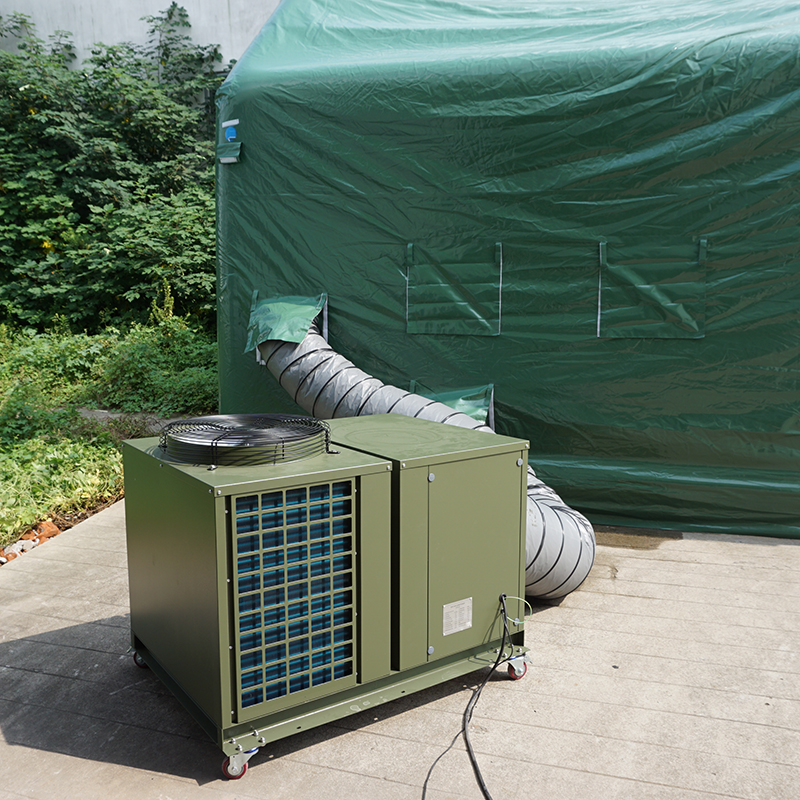 Features:
1) Wheel Kit
Four-wheel kits are equipped as a basic add-on-solution which make the unit to be applied on site without using any tools. The unit can be transported and moved to the optimal position by one or two people easily. The wheel solution enables rapid and easy deployment of the unit but no need forklift sometimes.
2) Flexible installation
All mobile tent air conditioners are easy to adapt to local conditions. The units can be placed outside of the tents, while they can also be placed half inside and half outside. In order to optimize the cooling effect, the units - as well as the ducts - are better to be placed close to the tent with ducts as short as possible on the outside to minimize solar radiation. Solar shielding of the cooling unit and ducts will further increase performance.
3) Heating and cooling from the same unit
The mobile tent cooling and heating units can also be supplied with a built-in heat function. This makes these units especially useful in geographical areas with extreme differences in daytime and night-time temperatures, such as deserts. Extra electric heating accessories are available to ensure the heating performance.
4) Wide Applications
Working area: Tents, Temporary buildings, Accommodation, Military camps, Relief camps, Workcamps (oil and gas industry), Vehicle cabins, Granaries, Event cooling and heating, Emergency cooling, etc
Working Temperature: It can provide cooling at ambient temperatures up to +60℃, and heating down to -15℃.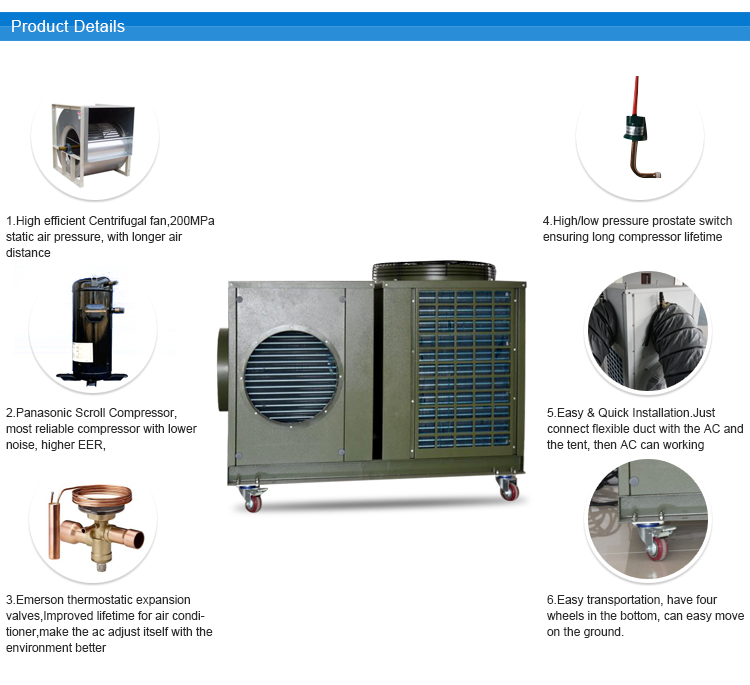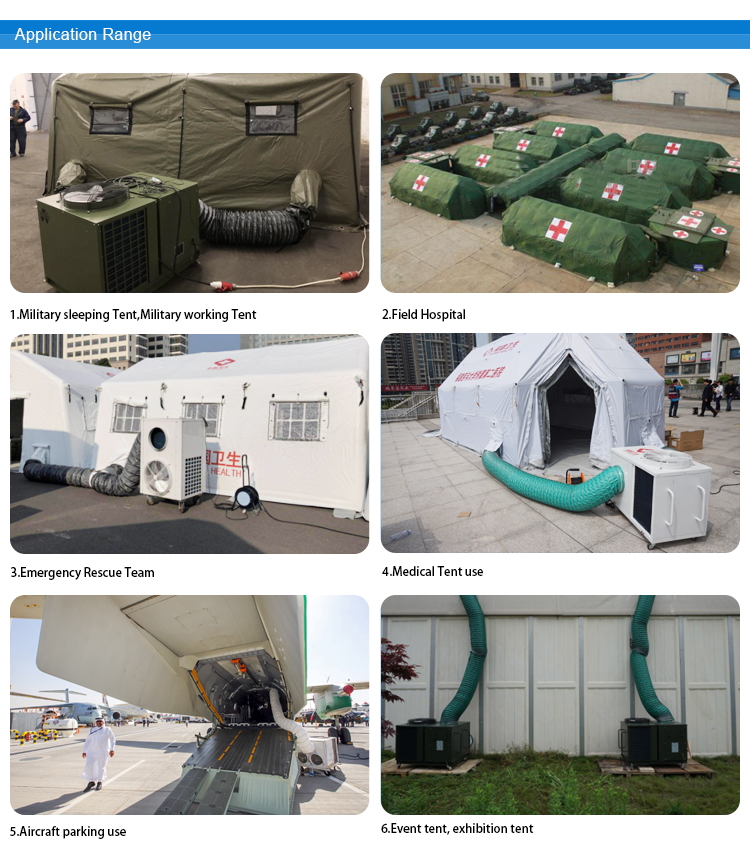 Our Service:
1. OEM Service is available;
2. Customized design is available;
3. Fast delivery time.
Sincerely hope to cooperate with partners from all over the world.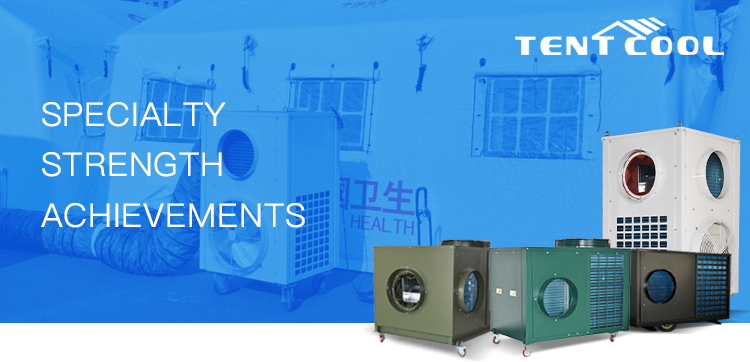 TENTCOOL MOBILE TENT COOLING AND HEATING UNIT
Mobile Tent Air Conditioner,Mobile Cooling and Heating,Tent Air Conditioning Units,Camping Tent Air Conditioner,Portable Tent Air Conditioner
Taizhou Tentcool Electrical Appliance Co., Ltd. , https://www.tentcool.com