When studying the global new energy automobile market, I found a very interesting phenomenon. When Baidu used the phrase "China is the world's largest new energy vehicle market," the result exceeded 13.3 million. When Yahoo was searched for "ChinaisLargestElectricCarMarketInTheWorld", a relevant link was not found. Friends used Google search, the result is not much. What are the reasons that have led to such a huge difference between China's self-perception of new energy markets and other people's evaluation?
Chinese and foreign new energy automobile big differences in the definition of
<br> <br> new energy vehicles is a concept proposed by the Chinese government in 2009, which stands for "energy-saving and new energy vehicles" include pure electric vehicles, plug-in hybrid and For fuel cell vehicles, the government only subsidizes the sales of these three types of vehicles. In addition, the internationally popular hybrid vehicle is defined as an energy-saving vehicle, and only a preferential policy for reducing the purchase tax for small-displacement vehicles by half is provided.
In the past two years, with the rapid growth of China's new energy automotive market, the concept of NewEnergyVehicle has gradually been accepted by the international community, but it is mainly used to describe the Chinese market or academic conference held in China.
In the United States, the government uses "AFV-Alternative Fuel Vehicle" and "PEV-Plug-In Electric Vehicle" concept to manage energy-saving vehicles and encourage consumers to buy through the tax credit of citizens. The definition of AFV is very broad and refers to vehicles that are not solely petroleum fuels, including electric vehicles, hybrid vehicles, and fuel cell vehicles, and even ethanol fuel (referring to ethanol and gasoline blended fuel). PEV mainly refers to pure electric vehicles and plug-in hybrid vehicles.
In Japan, energy-saving and environmentally friendly vehicles (or low-emission vehicles and low-fuel vehicles) include hybrid vehicles, electric vehicles, fuel cell vehicles, natural gas vehicles, liquefied petroleum gas vehicles, and clean diesel vehicles. English is called LPV-LowPollutionVehicle. Therefore, the definition of new energy vehicles in China and the international community is different, leading to a large difference in the calculation of sales.
Is BYD the world's largest selling brand of new energy vehicles?
In early 2016, Chinese media rushed to report that "BYD sold more than 60,000 units in 2015 and remained the champion of global new energy vehicles." I used "BYD's new energy vehicle sales in the world's first" as a keyword to search on Baidu, and obtained 4.15 million results showing such titles. Then Yahoo search "GlobalelectriccarsalesNo.1" English keywords, can not get any relevant titles in English related to BYD.
After careful analysis of the reasons, compared with the sales volume, the 2015 Toyota Hybrid was the world's first, with more than 1.2 million, sold in more than 90 countries. The top five markets for Toyota Motor are China, the United States, Brazil, the United Kingdom, and Canada, among which there is no Japan. BYD ranks second in sales, with more than 60,000 vehicles. Although the data shows that it is sold in 43 countries, the 2015 annual report shows that BYD's overseas income is less than 5% of total revenue.
If the total capacity of onboard power batteries is used, the world's first is Tesla, because according to the minimum capacity of 60 kWh per vehicle, Tesla's global sales exceeded 50,000 vehicles last year, and the total power battery capacity exceeds 3.08 million kWh. . Toyota is ranked second. According to the calculation of 1.3 kWh for each Toyota hybrid vehicle, Toyota sold more than 1.2 million vehicles last year, so the total power battery capacity exceeds 1.56 million kWh. BYD ranked third, with a total battery capacity of more than 1.28 million kWh.
It can be seen that BYD was praised by the Chinese media as "the world's first sales of new energy vehicles" in the world, in addition to the differences between China and foreign countries in the definition of new energy vehicles, there are different perspectives based on.
China's new energy automobile market is closed
<br> <br> abroad, many countries new energy vehicle market is open to imported cars, imported cars and domestic cars equally hold government subsidies. For example, in the U.S. market, the number of imported hybrid cars in Japan exceeds that of domestic cars. In the US electric vehicle sales list, among the top 10 models, imported cars accounted for half, including Nissan LEAF, BMW i3, and Fiat 500e.
In terms of charging pile standards, due to the large number of Japanese imported electric vehicles in the US market, the market share of the largest DC fast charging standard is Japan's electric vehicle fast charging standard CHAdeMO (Japan Electric Vehicle Fast Charger Association as a standard advocated fast charger trademark Name), 53%. The U.S. domestic Tesla SuperCharger charging station and SAE's J1772Combo standard accounted for only 37% and 10%, and the sum of the two was still less than CHAdeMO.
At present, the Chinese market does not give subsidies for imported new energy vehicles. Therefore, in the top 20 sales of new energy passenger vehicles, there are no imported brands. The only two joint venture brands are Dongfeng Nissan and BYD Daimler. Others are independent brands. At present, China's domestic market for charging piles accounts for more than 95%, and only a few luxury cars such as Tesla and Porsche use imported charging piles. The degree of closure is evident.
China's new energy auto market has not yet entered the market
<br> <br> China's new energy vehicles is still in the demonstration stage, yet universal sales nationwide. Although sales of new energy vehicles in China have grown rapidly in the past two years, the original intention of consumers to purchase new energy vehicles is not to protect the environment, but more to obtain local license plates for free. According to statistics, nearly 3/4 of the sales of new energy vehicles in 2015 were concentrated in Beijing, Shanghai, Shenzhen, and other cities that have restricted or restricted purchases.
In major cities where no restrictions have been imposed on purchases, such as Wuhan, the number of vehicles is close to 2 million. I went on a business trip last week and basically did not see new energy private cars on the road. The main reason is that Wuhan has not yet introduced a purchase restriction policy. In third-tier cities, such as Huangshi, Hubei Province, the local government has neither purchase nor subsidies. Huangshi's new energy car dealers had to hang Wuhan City licenses to sell new energy vehicles to the local market. However, in the automobile markets such as the United States, Japan, and Europe, new energy vehicles are sold nationwide, and subsidies are also national.
Therefore, the actual significance of the world's first new energy vehicle sales data obtained in 2015 should also be greatly reduced.
VLF1530GA Enclosed Fiber Laser Cutting Machine
Safety and No Pollution
With German Atlanta rack,
Japanese Yaskawa motor
German Neugart reducer.
With a fully enclosed design;
The observation window adopts an European CE Standard laser protective glass;
The smoke produced by cutting can be filtrated inside, it's non-polluting and environmentally friendly;
The weight of machine is 7500kg.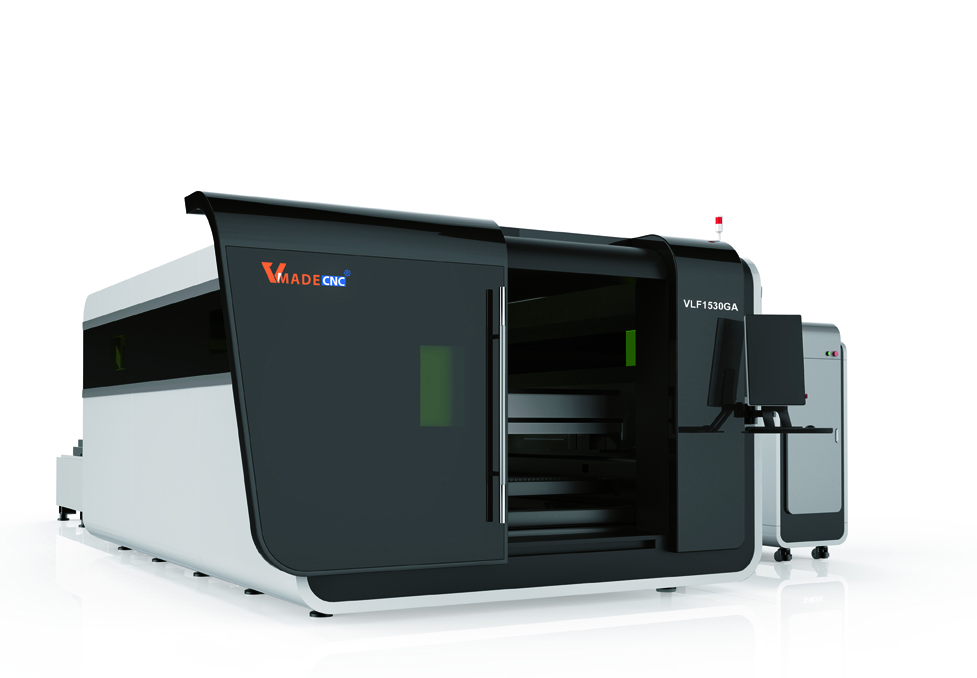 Whole Cover Laser Cutting Machine
Laser Cutting Machine,Whole Cover Laser Cutting Machine,Cnc Metal Laser Cutter,Sheet Metal Fiber Laser Cutting Machine
Jinan Vmade CNC Machine Co.,Ltd , https://www.vmadecnc.com