Application Fields:
Pharmaceutical
Application Machine:
CNC Machine Tools
Certification:
CSA, RoHS, UR, ISO, UL, CE, CCC
Capacity Controlling:
0-100%
Transport Package:
Plywood Case
Specification:
Standard quality. SGS, CE
Industrial Cooling Scroll Type WATER Cooled Chiller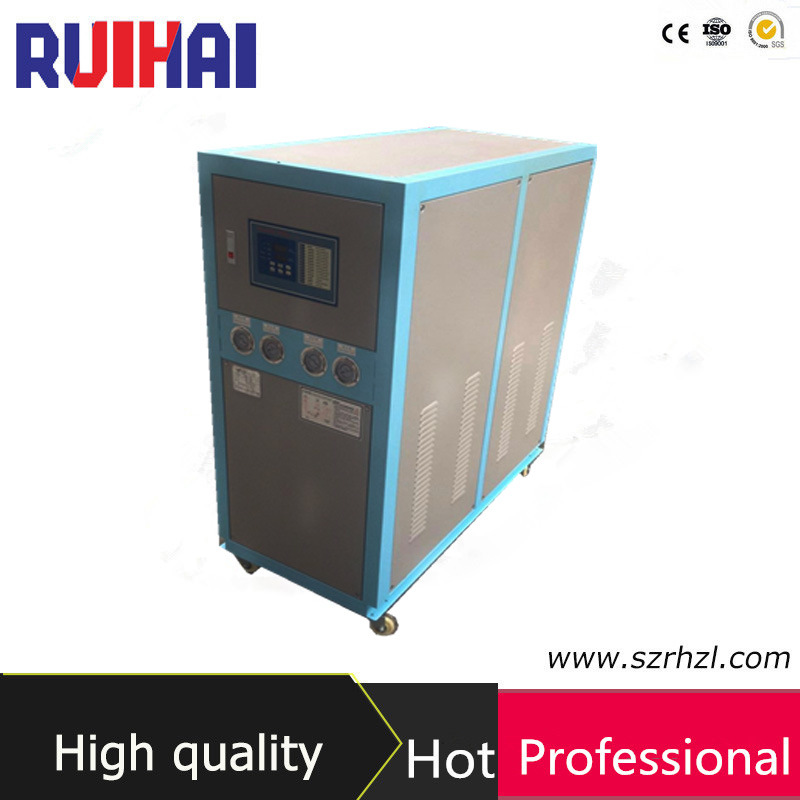 Main Features
1. Equipped with imported compressor and high efficiency condeser and evaporator, excellent cooling capacity, quite and low electricity consumption.
2. 304S.S or 316 S.S tanks are equipped, easy to clean and maintain.
3. Use electronic thermostat to keep temperature within 3-5 ºC.
4. Installed with current overload protector, high and low pressure switch, electronic timer delay, fault display system.
5. Have LCD Screen to display the outlet and inlet and temperatures setting of chill water.
6. Single or double or four compressors combination unit are available for your chillers to meet your refrigeration requirement, have English and China human-machine interface.
Technical Parameters:
 
Model No.
RHP
-025W
RHP
-030W
RHP
-035W
RHP
-040W
RHP
-045W
RHP
-050W
RHP
-060W
Power Supply
3N - 50HZ - 380V
Refrigeration Capacity
(50HZ)
KW
78.2
95.2
108.3
125.1
139.8
155.3
186.5
Kcal/h
67250
81870
93130
107580
120230
133560
160390
Power Consumption
kw
20.2
24.6
28.3
32.2
36.5
40.3
48.5
Freezing Water Flow
m3/h
13.6
16.0
18.8
21.2
24.1
26.5
31.8
Cooling Water Flow
m3/h
17.2
20.5
24.0
27.3
30.8
34.2
40.8
Compressor
Type
Scroll Type / Piston Type
Starting
Scroll Type / Piston Type
Output(kw)
18.8
22.5
26.3
30.0
33.8
37.5
45.0
Refrigerant
Type
Standard R-22 / Eco-friendly R134a or R407c
Control
Thermostatic Expansion Valve
Vol (kg)
12.5
15.0
17.5
20.2
22.5
25.0
30.0
Evaporator
Type
Shell and Tube Type
Pipe Dia.
PT2-1/2"
PT3"
Condenser
Type
Shell and Tube Type
Pipe Dia.
PT2-1/2"
PT3"
Built-in Tank
Vol (L)
180
220
220
220
280
280
280
Built-in Pump
kw
1.5
2.2
2.2
2.2
3.0
3.0
3.0
Protection Devices
high/low pressure switch, freeze protection device, safety valve, overload protection device, coil overheat protector, temperature automatic protective switch and etc
Size
L(mm)
1700
1700
2200
2200
2200
2400
2400
W(mm)
850
850
900
900
900
900
900
H(mm)
1300
1300
1350
1350
1350
1450
1400
Weight
KG
630
820
1000
1090
1200
1430
1600
Work Condition:
1. The above data is based on freezing water inlet temp 12ºC, outlet temp 7ºC, cooling water inlet temp 30ºC, outlet temp 35ºC.
2. The above specification may be modified due to product improvement without any prior notice, please confirm with our salesman before you place the order.
Work Principle: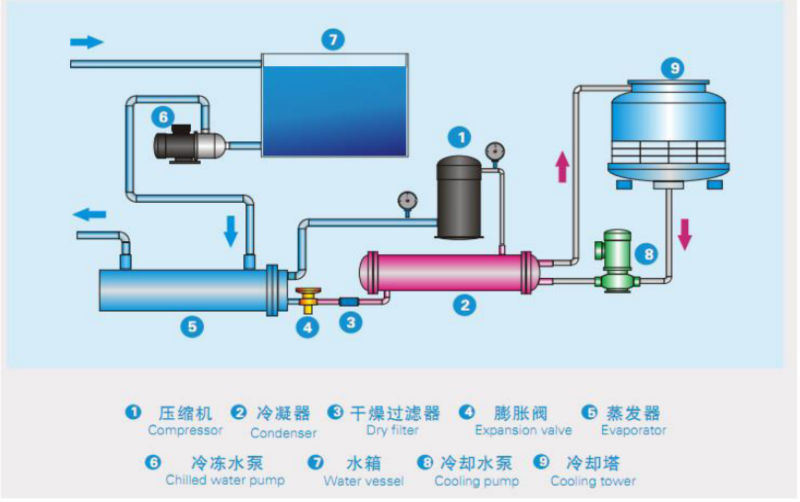 Applications:
Be widely used in plastics, electroplating, electronics manufacturing, pharmaceutical chemicals, food processing, refrigeration and other industrial establishments and guesthouses, hotels, shopping malls, office buildings and other types of civil air-conditioning system.
Package & Shipping
Use standard export plywood case with forklift truck feet, easy to load and unload
5-7 days to finish the production after receiving the deposit
Shipping by LCL or FCL


After-sales service:
12 months quality warranty since the date of delivery.
Free of charge to replace new chillersif quality problems.
Cost price to buy extra parts with Chillers from Ruihai if needed.
24 hours online service by e-mail, WhatsApp, Skype or Telephone Calling.
Installation Video to help installation even send engineer to customer's jobsite if needed.
Necessary info to Quote
1.What is your cooling capacity?_____    Kcal/hr  or   _____KW?
2. What's your power supply?  
For example: 220V-50Hz-1N (N=Phase )
3.What refrigerant type do you require?
R22 or R134a or R407c?
4. What's your ambient temperature? And what is your chiller inlet and outlet water temperature?
5. Which industry do you use the chiller in?
 
Industrial Furnace are including blast furnace, vacuum furnace, Induction Furnace , etc, Rongke is professional of induction furnaces.China Copper Smelting Furnace,Medium Frequency Furnace supplier & manufacturer, offer low price, high quality Intermediate Frequency Furnace,Medium Frequency Electric Furnace, etc. Rongke furnace specialized in design and manufacturing medium frequency induction furnace since 2013, now we have over 300 sets of smelting system running around the world and yearly revenue over 100 million CNY, every year our sales are expanding at least 1.5 times over last year and factory area too is enlarging every two years. now the factory is covering over 15000 sqm. Among the 110 employees we have 20 R&D engineers.
industrial furnace
industrial furnace
FOSHAN RONGKE INDUSTRIAL ELECTRIC FURNACE CO.,LTD , https://www.rongke-industrial.com