[ Instrument Network Instrument Development ] Recently, China's 21st Century Management Agenda Center organized 13 "National Quality Foundation Common Technology Research and Application" led by China Institute of Metrology ("China Metrology Institute"). Mid-term inspection of key special projects (referred to as "NQI special projects"). Relevant leaders of the Science and Technology and Finance Department of the General Administration of Market Supervision, 7 experts in the mid-term inspection expert group, more than 110 people including NQI special project leader, project leader and backbone, scientific research project management and financial personnel participated in the inspection.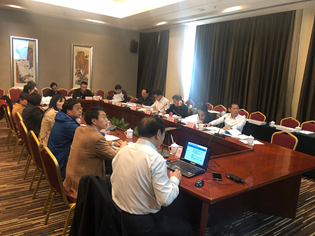 The inspection team first conducted on-site inspections of 13 laboratories such as biosafety, material optics, chip metrology, stoichiometry, vibration and inertia in Changping Campus of China Metrology Institute. The relevant project leader introduced the research progress of the project in detail, and showed the phased research results represented by experimental devices, key components and reference materials, accepted the on-site inquiry of experts, and communicated with the experts on the relevant technical issues. Explore.

Subsequently, the China 21st Century Management Agenda Center organized a mid-term review meeting. At the meeting, the project leaders reported on the overall progress of the project, the completion of the mid-term assessment indicators, the staged outstanding results and the implementation of funds. The mid-term inspection expert group of the project reviewed the medium-term performance report and other materials submitted by the project, questioned the progress of the project, and put forward specific opinions and suggestions for improving and improving the follow-up organization and implementation of the project, and finally formed the expert group for the mid-term inspection of each project. opinion.

The mid-term inspection will help the project team to comprehensively review the completion of assessment indicators and the use of funds, identify and solve major problems in project implementation as early as possible, and ensure the smooth completion of the overall objectives of the NQI key projects in order to ensure the completion of the project objectives. A good foundation.

(Original title: 13 NQI special projects of China Metrology Institute completed mid-term inspection)
To meet the needs of supplying cooled or heated air to living or working tents or camps used for various events, Tentcool gives the best solutions by Event Tent Air Conditioner products.
The event tent air conditioner can be used for wedding tents, Birthday Party Tents, Disaster Relief Tents, Worker Camps, etc. No need to consider the weather condition again. Unique design enables cooling or heating in minutes after the air conditioning units are set in place.
Features:

Mobile Compact Design
Powerful Cooling or Heating
Wide applications
Low Noise
High Temperature Durable
Easy Installation
Certification:
ISO9001
ISO14001
CE Certified.
Spare parts warranty of 24 months
After sales services and maintenance on demand.

Technical Data:
| | | | | | | | | | |
| --- | --- | --- | --- | --- | --- | --- | --- | --- | --- |
| Model No. | | TTAC-07HCWa | TTAC-07HCWa | TTAC-12HCWaS | TTAC-12HCWaS | TTAC-18HCWaS | TTAC-18HCWaS | TTAC-40HCWaS | TTAC-70HCWaS |
| Type | | Horizontal | Vertical | Horizontal | Vertical | Horizontal | Vertical | Horizontal | Horizontal |
| Cooling capacity | kW | 7.00 | 7.00 | 12.00 | 12.00 | 18.00 | 18.00 | 40.00 | 70.00 |
| Heating capacity | kW | 7.70 | 7.70 | 13.50 | 13.50 | 19.50 | 19.50 | 45.00 | 77.00 |
| Electric Heating | kW | 3.00 | 3.00 | 4.00 | 4.00 | 6.00 | 6.00 | 8.00 | 15.00 |
| Rated cooling power input | W | 2550 | 2550 | 4150 | 4150 | 7000 | 7000 | 17500 | 30200 |
| Rated heating power input | W | 2650 | 2650 | 4450 | 4450 | 8500 | 8500 | 18500 | 31400 |
| Rated cooling current input | A | 12.2A | 12.2A | 7A | 7A | 11.7A | 11.7A | 29.5A | 51.1A |
| Rated heating current input | A | 12.7A | 12.7A | 7.5A | 7.5A | 13.2A | 13.2A | 31.2A | 53.0A |
| Evaporating side airflow | m3h | 1000 | 1000 | 2000 | 2000 | 3000 | 3000 | 5500 | 5500 |
| Condensing side airflow | m3h | 3500 | 3500 | 5000 | 5000 | 10000 | 10000 | 22000 | 22000 |
| Air pressure | Pa | 200 | 200 | 200 | 200 | 200 | 200 | 200 | 200 |
| Compressor MFG | | GMCC | GMCC | PANASONIC | PANASONIC | PANASONIC | PANASONIC | PANASONIC | PANASONIC |
| Evaporating side Noise | dB(A) | ≤40 | ≤40 | ≤45 | ≤45 | ≤48 | ≤48 | ≤52 | ≤52 |
| Condensing side Noise | dB(A) | ≤55 | ≤55 | ≤60 | ≤60 | ≤65 | ≤65 | ≤70 | ≤72 |
| Net Weight | kg | 110 | 125 | 180 | 200 | 250 | 260 | 380 | 780 |
| Dimension (L x W x H)) | mm | 1150×710×820 | 740*620*1120 | 1280×930×1000 | 835*735*1275 | 1400×1080×980 | 930*850*1380 | 2100*1100*1210 | 2800*2100*1210 |
Event Tent Air Conditioner
Event Tent Air Conditioner, Wedding Tent Air Conditioner, Relief Tent Air Conditioner, Emergency Mobile Air Conditioning, Disaster Saving Portable Air Conditioner, Disaster Relief Tent air conditioner
Taizhou Tentcool Electrical Appliance Co., Ltd. , https://www.tentcool.com